SAT-3 - Accra 2002
Shopping some souvenirs with Guenter.
M. Plaza Hotel in Accra.
Jean Louis, David and Peter near the swimming pool.
A short visit to the beach of Accra, close to the market.
During the
SAT3/WASC/SAFE Cable System
meeting, in Accra in October 2002, hosted by Ghana Telecom.
With a friend from India and Likiti from Benin.
kiti from Benin, his wife and Fofana from Ivory Coast.
Official dinner in a very nice open air restaurant, close to the beach. Good moments to remember.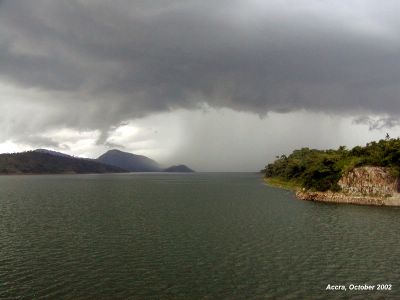 During the meeting in Accra, we had a chance to have a view of the
Lake Volta & Akosombo Dam
near the capital Accra. Accra was founded by the
Ga
people in the
fifteenth century
as a centre for trade with the Portuguese, who built a fort in the town, followed by the
Swedish
,
Dutch
,
French
,
British
and
Danish
by the end of the
seventeenth century
.
Jean Louis and Emmanuel.
With my friend Jean Louis Garnier, visiting Accra center and the cable station after the
meeting.
Anglican Church in Accra.
Shopping Center Opera in Accra.
The last beer at Accra airport.
Some postcards of Accra.